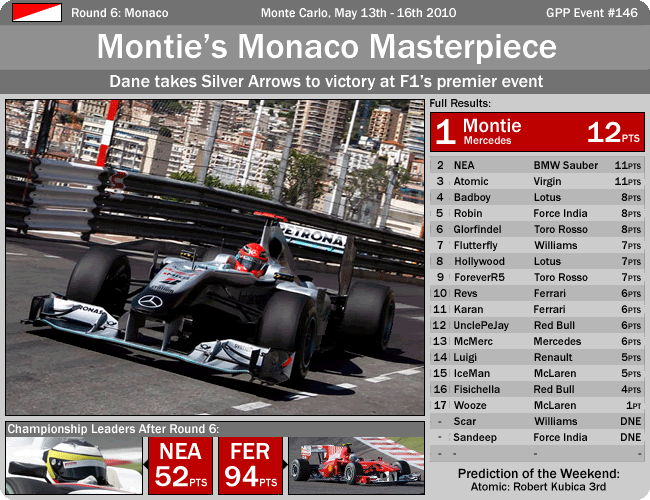 Congratulations to Mercedes' Montie on taking his seventh career win on the grandest stage of the Formula 1 season. His win is of course the first for the Mercedes team in GPP and his first since Brazil at the end of last season. He has now jumped up from sixth to second overall, a single point behind leader NEA.

NEA and Montie now have a small amount of breathing space at the top of the standings with the Ferraris and Red Bulls bunched up in a battle for third. Karan and UnclePeJay are embroiled in probably the closest ever battle, having scored the same results in every race so far this season. Who will drop the ball first?

Mercedes climb the teams championship standings for the third race in succession and now sit fourth, with third placed Lotus within arm's reach. Ferrari retake the overall lead from Spain winners Red Bull.

One last thing - those who predicted Chandhock for a DNF do not score a point - his accident (well, Trulli's accident that happened to land on top of him) occured close enough to the end of the race for him to be a classified finisher.

Next up, the world's greatest empty grandstand exhibition - Roll on Turkey!