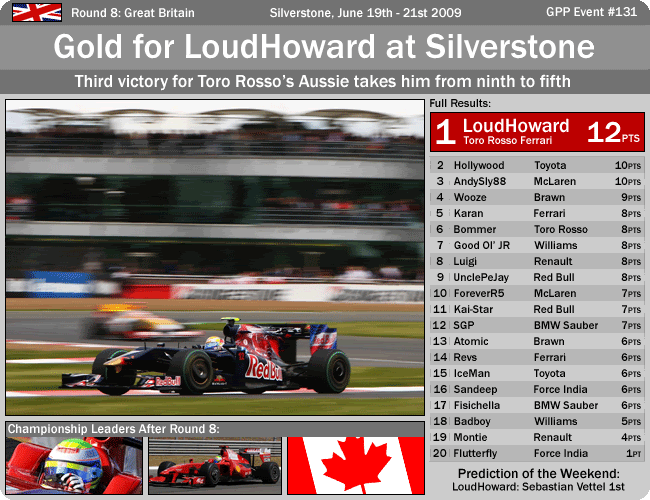 Well done to LoudHoward on his first win of the 2009 season - his first since Turkey last year. He is also awarded for predictions of the weekend after being the only one of all of us to correctly predict Vettel to take the win. The result moves him up four places to fifth, a solitary point behind his team mate Bommer in third place. How costly will missing Monaco prove, come the end of the season?

Well done also to Hollywood - the rookie that continues to climb the standings - and last year's British GP winner AndySly88, who came close to repeating the feat and moves from 19th to 17th.

In the championship its still very much Karan and Wooze in command, with the gap to third now up to ten points. Wooze outscores Karan here by a point to close the deficit to three. It'll be fascinating to see which of these two is the first to make a mistake.

There's little change in the teams championship - Brawn put the squeeze on Ferrari and now sit just two points behind whilst McLaren's strongest result for some time sees them up two places to seventh.

Australia's first win of the season doesn't help them trouble the top three in the nation's championship - Canada, Great Britain and USA.

Roll on Germany!