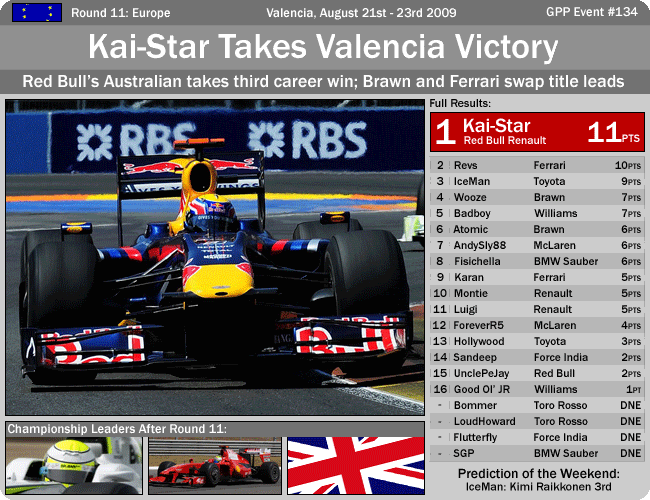 A big congratulations to Kai-Star on winning the European Grand Prix. Its his first for Red Bull, the third of his career and his first since Brazil 2007. He's also jumped from 16th to 12th in one race. Nice work mate.

Gotta spare a quick moment to big up Rubens. What a legend! The only downside is I predicted him for the win at every race this year... until this one. Oh yes. I rule.

In the championship standings Brawn and Ferrari have swapped their championbship leads - Wooze takes over from former champ Karan whilst a little help from Revs has seen Ferrari retake the lead in the teams championship. Bommer falls from 4th to 7th after his first missed round of the year, leaving IceMan to move up behind team mate Hollywood and make it a Toyota 3-4. Toro Rosso drop to 6th after a double-DNE.

Australia's second win of the season sees them claw some ground back on the leading trio, but a top three spot still looks a big ask with just six rounds to go.

The glorious Spa-Francorchamps is up next. Early forecasts suggest a good chance of rain over the weekend. Click here for forecast details.

Roll on Belgium!!