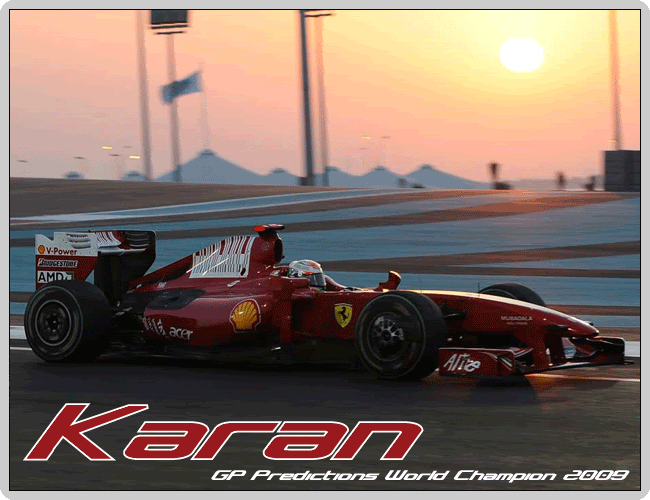 Formula 1 2009 has come to a close and a massive congratulations is in order for new World Champion Karan. The Canadian has become GPP's first ever two-time champion, repeating his success of 2007. I have to admit, I never thought anybody would take the crown twice and it might well never happen again. Very well done mate - I'm seriously impressed!

Congratulations too to IceMan on taking his fifth career victory at the inaugural Abu Dhabi twlight Grand Prix, winning what we now know to be Toyota's last Formula 1 race. The result was also just enough to edge out Ferrari's Revs for third place overall, equalling his best championship result from last season. Its just a shame he'll have to find new employment in 2010!

I'd also like to give a quick nod of approval to GPP veteran Sandeep on a fantastic prediction of the weekend - more like prediction of the year!

Commiserations to my team mate Wooze, who eventually finished 11 points down on Karan after a season-long battle. Second place is his best ever championship finish and although he didn't take the title in the end, he can at least take heart from the fact that he comprehensively blew me away this year 11-6 in the team battles. Nice work.

Another championship finish worthy of mention is that of BMW Sauber's Fisichella. Having spent most of the season stuck in 19th place, he staged an heroic comeback with two wins and climbed up to eighth place by the year's end. He's never missed a round since his debut in 2005 and its great to see his commitment being rewarded with a decent result. He too though will have to find a new berth next year...

In the teams championship Ferrari take their fourth championship thanks to the efforts of Revs and Karan. GPP original Revs has been behind all four of the team's titles and surely both players should be included in any 'greatest ever' debate. Well done guys.

Despite being Toyota's sole entrant in Abu Dhabi, IceMan managed to single-handedly overhaul Renault for third place in the final standings. Force India duo Sandeep and Flutterfly lifted their team from eighth to sixth in the final round.

In the nations championship, with five players (and pretty reliable ones at that) it was always looking like Great Britain's championship and after five wins in 2009, they have taken the honours once again. Canada held USA off for runner-up spot whilst Revs took Germany to fourth place as the best of the 'solo' nations.

So thats it, the chequered flag has fallen on F1 2009. Its been an incredible season of racing and the lower than usual scores tell the tale of just how unpredictable the racing has been. As ever, a huge thank you to everybody that took part. Your continued commitment (and tolerance for my delays!) make this game what it is and I still find it hard to believe just how long some of you have stuck with this. You guys and girls and fantastic and you're all very welcome to come back for another season of F1-based internet time wasting in 2010.

26 seats and a host of new teams... its going to be one hell of an F1 season.

Roll on 2010!