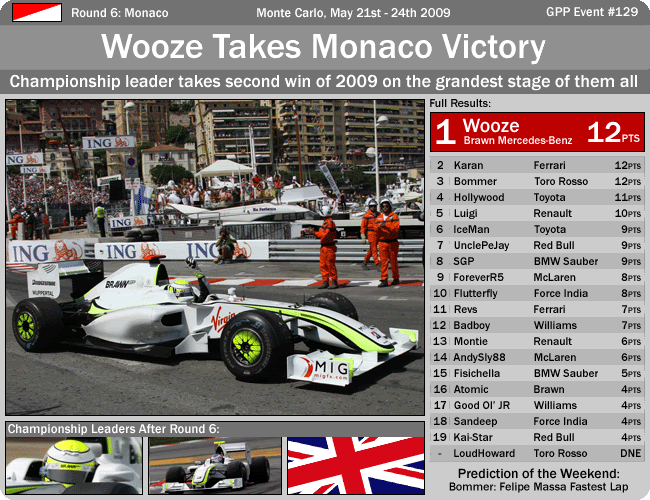 A big, big congratulations to my team mate Wooze on taking his second win of the season at Monaco. He was already leading the standings before this win and so now stands in a very strong position in the championship. This win is the fourth of his career, equalling UnclePeJay, IceMan and closest championship rival Karan.

This result also means that Wooze automatically secures an option on his Brawn seat for 2010, as he is a multiple winner this season.

Karan also scored heavily and is now part of a breakaway group of three at the top of the table, completed by Spain winner Bommer, who is also on an awesome run of form at the moment. Bahrain winner Hollywood climbs into the top eight whilst its good to see SGP move up off the bottom of the table after a tricky start to the year. Keep it up!

Ferrari put the squeeze on Brawn GP, reducing the leaders' cushion to two points while the big winners were Toyota, scoring more than everybody else and moving from 7th to 5th.

A third win of the season for Great Britain keeps them at the top of the nations standings by a slender three points. Both Germany and Belgium climb up a place.

Incidently, information on deciding winners in tied-points situations is covered by the rules.

Roll on Turkey!