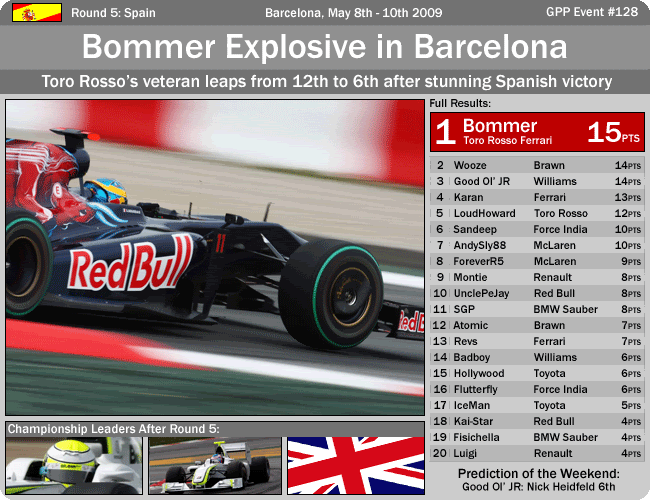 A big congratulations to Bommer on taking the win in Spain with an impressive 15 points. This victory is his first for new team Toro Rosso and his third overall, equalling the tallies of Fisichella and new championship leader Wooze.

Grats too to the missus on predicting a low points result for Nick Heidfeld - prediction of the weekend. Bommer also had an ace in the pack being the only one to predict Rubens taking fastest lap - probably the guess that sealed the win.

With 14 points from Spain Wooze returns to the head of the standings for the first time since Australia. As usual the return to Europe marked the first high scores of the season and plenty of movement in the 2009 standings. Bommer jumps six places to tuck in just behind team mate LoudHoward, after the Toro Rosso pairing scored heavily to take the team to third overall after Brawn and Ferrari.

The United States swap places with Canada yet again thanks to Bommer's score, jumping to second behind Great Britain.

Next up, its the big one - the battle to be the next Monte Carlo winner. Don't forget that the first day of practice is a day early so the deadline is Thursday 21st May 9am BST.

Roll on Monaco!