I'm planning on adding a couple of extra non-championship events for this season: The Le Mans 24hrs in June and the Race of Champions in November.

These two events do not count towards the main Formula 1 championship and as such are optional. Everybody is eligible to compete should they wish to but those that enter stand the chance to win extra trophies, or in other words, better bidding power for the 2010 F1 seats.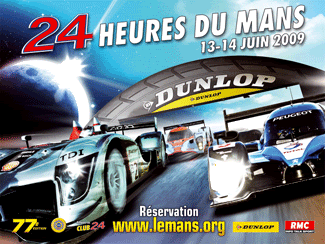 Le Mans 24hrs - June 13th - 14th 2009

This year Sebastien Bourdais will take on the legendary 24hr race, harking back to the 'good old days' when Formula 1 drivers would compete in various other events and series during the season.

This gave me the idea to incorporate the great endurance race into GPP to give players the chance to pick up another prize during their 'careers'.

(Actually, it was 10% that, 90% seeing the stunning new Aston Martin in the iconic Gulf livery and thinking 'I've got to get in on that'... but, I digress)

As with the real race, seats would be shared between three players, so the team of three that scores highest will be declared the winners of the 2009 Le Mans 24hrs. Of course, the nature of the race means a different scoring system will be needed, but I have a few ideas of how that might work.

Peugeot, Audi and Aston Martin are the big three manufacturers in the race and I'd hope to have at least one of each car. If more than nine sign up, then its up to you guys which additional LMP1 cars we use.

Race of Champions - November 3rd - 4th 2009


Just two days after the Formula 1 season comes to a close in Abu Dhabi, China's Bird's Nest olympic stadium will host the annual Race of Champions.

I thought we could also include this event as an end of season bonus so players who might not have faired so well in the F1 championship still have a shot at a big prize.

As in the real event, it would be split into two separate competitions - the Nation's Cup on the first day and the contest between individuals on the second to determine who is awarded the coveted 'Champion of Champions' title.

In real life, the competitors are proven winners from various series, so I think the day two event might be restricted to players who have finished, say, in the top three of the championship before.

As with Le Mans, this is a very different event from a Grand Prix - its a knockout competition - so again the scoring format will need to be different but I've come up with the bare bones of how the concept could work.

So what do you think? At present this is not set in stone and I'm posting this to gauge the level of interest so please do post in the comments and let me know what you think. Neither event needs a massive entry line up for it to go ahead so if there's a small group of players that would like to have a go at this then I'll go ahead with it.

Let me know. I think it could be fun.