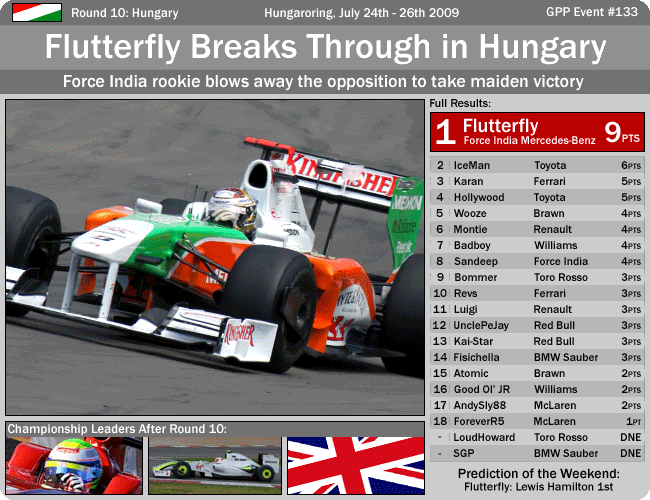 Congratulations to Flutterfly, who takes his first career victory in Hungary after being the only player to correctly predict Hamilton for the win. Not bad for the guy who was last in the championship. The result is Force India's first win in a little over a year and also means that both newcomers to the game this season have reached the top spot. Grats bud.

An unusual result in F1 made for low scores all round and little movement in the standings. The highest climber was IceMan, who jumps from 9th to 5th after making it a British 1-2 in Hungary. Flutterfly moves from the wooden spoon slot to 18th, relegating the BMW Saubers to the bottom two positions. The big news however is Karan retaking the championship lead yet again from Wooze. The two runaway leaders are now tied on 84 points each, with Karan ahead by virtue of his higher win scores. Its going to be an epic battle over the last seven races.

The teams championship sees a similar situation with Brawn and Ferrari also level pegging with 150 points apiece. Brawn hold the top spot with three wins to two. Impressive recent results for both IceMan and Hollywood see Toyota closing in.

Flutterfly's dominant win has had a big impact on the nation's standings, with Great Britain going top once again. Of the ten races so far this year, Britain and Canada have won eight.

Roll on Europe!

PS. Fingers crossed for Felipe Massa. Here's hoping he makes a full recovery soon and his eyesight is not affected (early signs are good). In the meantime, Mr Schumacher as a stand-in, anybody?