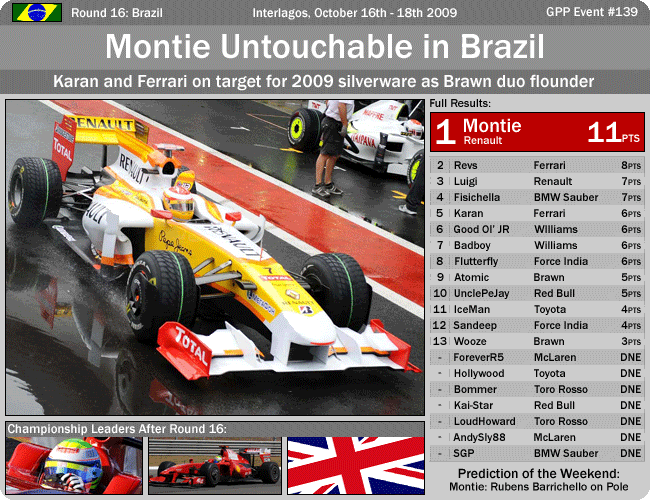 Congratulations to Montie on taking his sixth career win, making him one of the most prolific winners in the series. Its Renault's first win of the season and indeed, Montie's first for his new team. He has won for every team he has competed with.

The fight for 2009 championship honours took a decisive swing in Brazil. The Ferraris and Renaults dominated the top scorers whilst the Brawn duo struggled. Number one contender Wooze came away with the lowest score, leaving him five points down on leader Karan going into the final round. While its not impossible that he will still take the title in Abu Dhabi, he'll need some good fortune to prevent Karan from becoming GPP's first ever two-time world champion. One small factor in Wooze's favour is that he can afford to tie on points - Karan needs to be at least a point clear.

Its a similar tale in the teams championship - Karan and Revs' performance in Brazil looks strong enough to have all but secured the title, leaving Brawn ten points down. Renault have jumped Toyota for third.

Great Britain can pretty much start uncorking the champagne in the nations championship.

Just one more to go folks - stay tuned this weekend for some additional analysis and information on the upcoming 2009 Race of Champions...

Roll on Abu Dhabi!