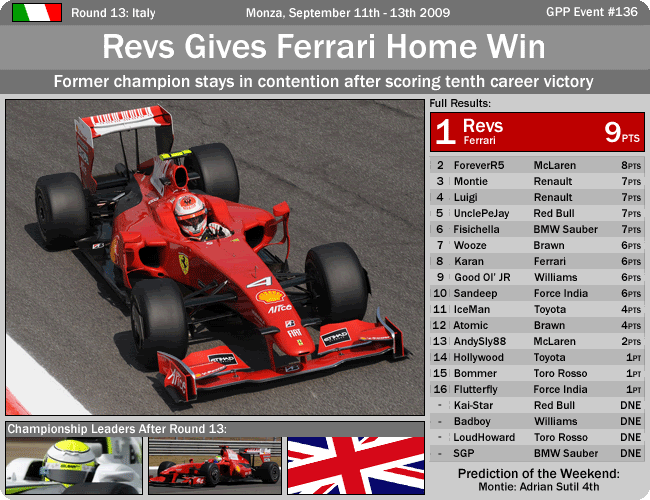 A big, big congratulations to Revs on a Tifosi-pleasing win for Ferrari on home turf. Not only does this win (his 10th no less) keep him in contention for the title, but it means he continues his record of being the only player ever to hit the top spot in all eight Predictions seasons. Impressive stuff.

In the title chase, Karan remains three points behind Wooze after both scored six points. Revs moves up to third, 11 points behind the lead. ForeverR5 now lies seventh after another good result and has been quietly climbing the leaderboard all season - he must be ruing missing the Chinese Grand Prix.

In the teams championship, Ferrari retake the lead from Brawn yet again. They are five points clear of Brawn with three wins apiece. A bad round for Toyota means a late surge for the title now looks unlikely whilst Renault pairing Montie and Luigi scored well to lift the team to fourth.

Great Britain still lead the way in the nations standings, but the USA is on the move, closing to within two points of Canada's second place.

Roll on (a hopefully un-fixed) Singapore!