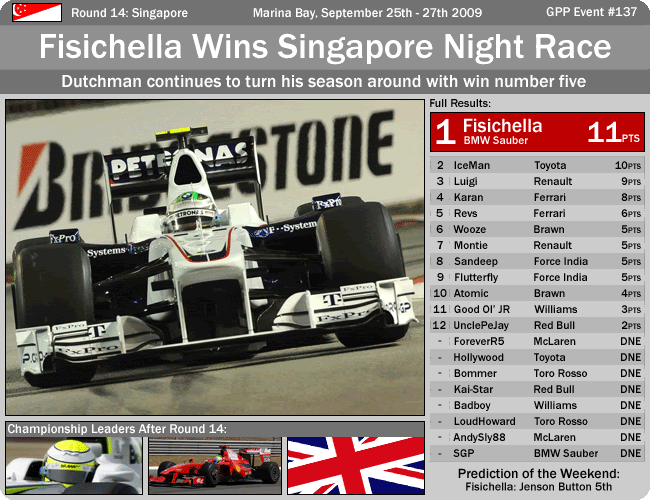 Grats to Fisichella, who takes his second win in three races. Its his fifth career victory overall and I have to admit its good to see his season start to come good after a tough first half. As a multiple winner in 2009, he has now also secured his seat should he wish to stay with the team, whatever they might be called next season.

The battle between Karan and Wooze for the world championship rages on and remains as close as ever. Outscoring Wooze in Singapore by three points, Karan is now once again tied with Wooze at the top of the standings. With just three to go, its wide open. Wooze leads by virtue of a higher score during the year (Spain).

Singapore was also a great round for Luigi, who jumps from 11th to sixth. He might be yet to win in GPP but he's looking good for securing his seat at Renault.

The order in the teams championship remains as it was, but another great showing from Karan and Revs sees Ferrari pull ten points clear of Brawn.

Germany move up to fourth in the nations championship after a no-show from the Australians whilst Luigi's impressive recent form lifts Belgium ahead of Denmark. Canada look to have seen off the USA threat for second for the time being.

Roll on Japan!