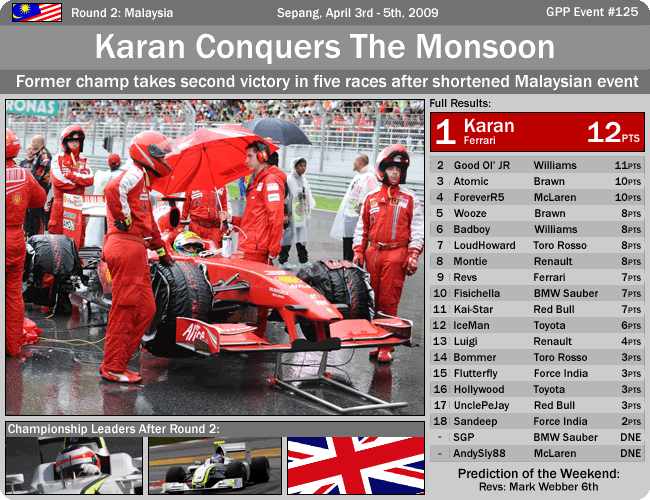 Congratulations to 2007 champion Karan on taking his fourth career win! Karan has doubled his win tally since Japan last year and after a highly chaotic and unusual shortened Malaysian Grand Prix, came away with the highest score so far this season. The result takes him up to third in the championship race.

Well done too to my missus on taking a close second - that win must be getting close!

In the standings its a battle of the champions, with three of the top four having taken the title before. Leading at the moment is me (Atomic) ahead of Australia winner and team mate Wooze, the two Ferraris and two Williams. Of course, at this stage of the season its still very tight and the top five are covered by just three points.

Logically, the Noah's ark style championship standings are reflected in the teams championship, with Brawn leading the pack from Ferrari and Williams. Red Bull have crept off the bottom after drawing a complete blank in round one.

Great Britain, Canada and USA have pulled ahead slightly in the nations standings, the three countries covered by a single point.

So what are your thoughts on the race today? Did the generous helping of action during the running make up for the early finish? Personally I think its a shame that this happened - even before we got to this weekend people were speculating that we could be looking at a red flag situation because of the new start time - this was totally avoidable. The actual racing though was great and even before the rain came, we saw some evidence that these new technical regs are making for better racing.

Roll on China!